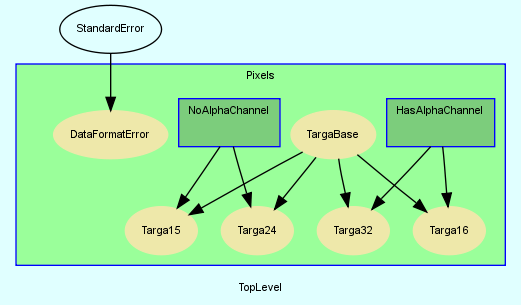 Ruby Pixels allows you to read and write RGB/RGBA pixel data stored in uncompressed, non-interleaved TGA (Targa) files.
Unlike some other libraries, Ruby Pixels reads and writes one row of pixels at a time, you can work with several large images at once without running out of memory.
Requirements
Ruby Pixels needs no external libraries.
Limitations
Ruby Pixels cannot read or write compressed, interleaved, or colour-mapped images. You may wish to use another tool (e.g. MiniMagick) to convert to and from other formats.
Ruby Pixels currently has no support for reading or writing individual pixels. You need to do it on a row-by-row basis.
Example Code

  # invert-image.rb - Invert the colour of an image.
  require 'pixels'

  input = Pixels.open_tga("mm/mm-01.tga")
  output = Pixels.create_tga("output.tga", input.spec)

  input.each_row_rgb do |in_row, y|
    out_row = []
    for r, g, b in in_row
      out_row << [255-r, 255-g, 255-b]
    end
    output.put_row_rgb(y, out_row)
  end

  output.close
  input.close